The Artist's Thoughts


The verses that we call the Beatitudes are beautiful and powerful verses; I believe they describe the steps to the unfolding of a life that is built on what is the best, what is true, and what is eternal.

Unfortunately, I have difficulty understanding the meanings of some of the key words.

The word, blessed, causes me the most difficulty. The common synonyms for blessed, namely happy or fortunate, seem to me far too weak to carry much significance. By the way, the word in the original Greek is 'makaroi' which means great, prosperous, rich.

I have searched for a word that I feel would be meaningful to us today – hopefully more significant, than merely happy or fortunate.

The synonym for blessed that I have picked is empowered. For me, empowered is consistent with the original sense of the word while also having significance for us today. I believe today when so many of us feel powerless against the forces at work in our world, there is a real need to feel empowered. Being empowered would be a tremendous blessing for many of us.

Empowered implies having the wherewithal to perform a task. In this case, the task is living a life that is built on what is true and lasting.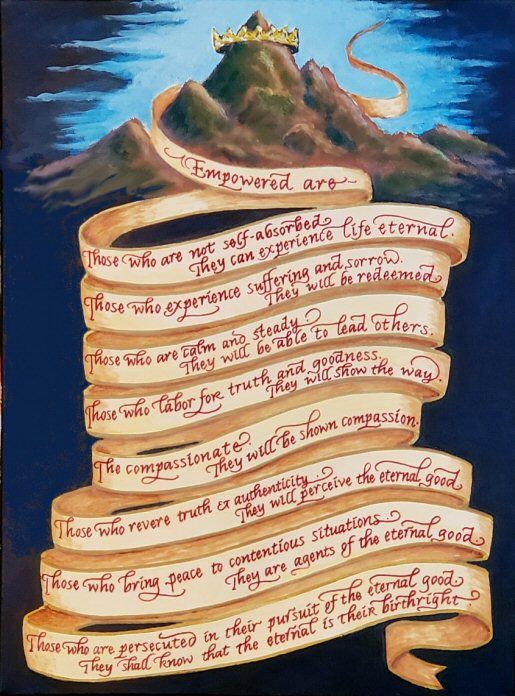 The verses, as I have rephrased them, are inscribed calligraphically in my painting on a winding ribbon that is displayed in front of a mountain. Encircling the summit of the mountain is a royal crown.

The mountain is symbolic of being near God. Just as in Exodus we are told that Moses ascended a mountain to meet God and receive a new vision of mankind's relationship with God, so it is the same in this instance. Also, the mountain is an entirely appropriate image for the presentation of verses from Jesus's preaching which have been titled his Sermon on the Mount.

The winding ribbon was seen previously in the painting of the baptism of Jesus. It is used symbolically to portray the voice of God.

These visual elements are symbolic and hopefully convey an inspiring message.

I believe that these verses are Jesus's foundational prescription to us for the growth of our understanding of our relationship with God and with our fellow humans. 

As with previous lessons, the important question is: how do these powerful verses apply to us today?




CLICK to DOWNLOAD the lesson THINK-SHEET
(With Beatitude Cards for Daily Meditation)





CREATE A FREE ONLINE JOURNAL -- CLICK HERE or HERE







Copyright James Bennett, 2021